Commercialize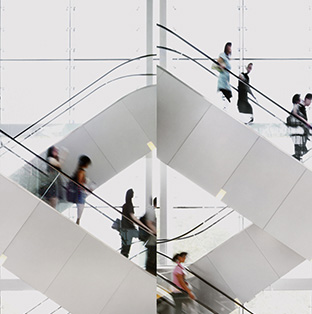 Partnerships
In addition to the significant engagement we have with our portfolio companies, we also work with companies outside our portfolio to help them pursue partnership opportunities across Citi. We explore synergies across Citi's global Innovation Labs and businesses and rapidly evaluate emerging technologies and next-generation digital solutions for our customers. By partnering internally, we are well positioned to know which startups are a strategic fit for our businesses and our vision for the future.
"Many venture firms attach strings to their investments, but Citi Ventures didn't. Over the last two years, since the time that Citi Ventures first backed us, they helped us to launch new customer pilots, connected us with the right people and helped us close deals that wouldn't have been possible without them."

- Gurjeet Singh, Co-Founder and CEO of Ayasdi

Our engagement with Ayasdi started before our investment. Citi Ventures hosts regular, curated domain forums focused on Data Analytics & Machine Learning and meets with internal businesses to gain a better understanding of the ways our portfolio companies can support our Citi teams. We met with Ayasdi many times and determined that there was strong potential to support and advance Citi's businesses.
Citi Ventures identified and sponsored a number of use cases for Ayasdi, building a formal engagement model. Based on the feedback from our technology teams we also made several suggestions that helped Ayasdi evolve its product architecture for deployment into our own complex data environments.
As a result of our partnership, three different business units across Citi identified pilot projects, and one signed a commercial deal with Ayasdi. In addition to making inroads across Citi, our team has utilized our network to introduce Ayasdi to four large corporations and financial institutions as potential clients.
"Citi Ventures has been amazingly helpful to us since they first invested... partnering with Citi Ventures has been one of the most important decisions we have made as a company."

- Vijay Balasubramaniyan, Co-Founder and CEO of Pindrop Security

Citi Ventures created a joint position in partnership with Global Information Security to align our investment strategy with security and fraud priorities, understand the landscape from Citi's perspective, and develop expertise in the domain. As a result, we are able to connect our security portfolio companies to the key decision makers within Citi's Global Information Security and Consumer Fraud groups.
After meeting Pindrop, Citi Ventures built a formal engagement model in partnership with the Global Information Security group. After investing, we mapped out the use cases that provided beneficial feedback on Pindrop's offering to make it more robust and appealing for the business to adopt.
Our team has made introductions across Citi and leveraged our relationships to help Pindrop win pilots, sell into other large corporations, and meet other potential clients.
"We identified Citi Ventures as an integral partner early on to help us strategize on upcoming roadmap initiatives, but they proved to be invaluable advocates for the long term, introducing us across multiple Citi businesses, helping us run proofs-of-concept and facilitating a commercial deal and enterprise license. Their teams of experts were irreplaceable in helping us on our journey."

- Ben Werther, Founder & CEO of Platfora

Citi Ventures met with Platfora in early 2012 after hearing about them from several Big Data experts within our network. Following the introduction, we spent time with the team to better understand their product architecture, roadmap and vision for the future of analytics.
Based on our understanding of Platfora's capabilities and its potential intersection with Citi's Big Data roadmap, we initiated introductions to several user groups within Citi including: the Private Bank, Global Decision Management, IT and Chief Data Office. As a result of these introductions, the Citi IT teams engaged Platfora in proof-of-concept testing and a separate RFP process to evaluate the product from a feature, capability and scalability perspective.
Platfora successfully completed the POCs and RFP process leading to a commercial deal with Citi. And though the arrangement is well underway, Citi Ventures continues to educate new user groups within Citi on the power of Data Analytics & Machine Learning with the goal of driving greater adoption of Platfora's product.
"Citi Ventures deeply understands the importance of emerging technology in securing and protecting the financial services ecosystem. They saw the potential for Silver Tail's technology to fight DoS attacks from an early point, and helped us accelerate our corporate introductions and ability to commercialize on a global scale. From the Series B investment through Silver Tail's acquisition by EMC, Citi Ventures championed our vision and I jumped at the opportunity to partner with them again at vArmour."

- Tim Eades, CEO of Silver Tail

Silver Tail is an example of Citi Ventures' investment approach, which enables companies to scale successfully. Silver Tail's technology mitigates denial-of-service (DoS) attacks and provides unprecedented visibility to external security threats. In 2011, Citi Ventures invested in a Series B $20M financing alongside Andreessen Horowitz. In 2012, Silver Tail was acquired by EMC to be a part of the RSA division. The strategic and financial success of this partnership is valued by both the entrepreneurs and their investors.
Citi Ventures also recently backed vArmour, a new security company launched by the former CEO of Silver Tail, Tim Eades. This repeat backing demonstrates the value that both the Citi Ventures team and the entrepreneur place on the relationship.